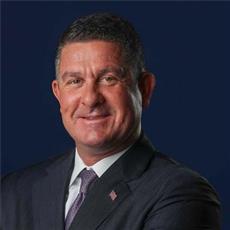 Jeff Dollarhide
President, CEO & Managing Partner
CFP®, CLU®, ChFC®, CLTC, AIF®
Biography
Education: University of Northern Colorado
CA Insurance Lic: #0B53845
Jeffrey C. Dollarhide, CFP®, CLU®, CLTC®, is the President, Chief Executive Officer and Managing Partner of MassMutual Arizona, headquartered in Scottsdale, AZ. Jeff also holds the title of General Agent to MassMutual Arizona, a general agency of Massachusetts Mutual Life Insurance Company's (MassMutual), a Fortune 500 1 Company. Upon appointment as General Agent in 2000, Jeff was the youngest general agent in MassMutual company history and even received the coveted "Chairman's Trophy" award in his first year of service.
Having earned his Bachelor's degree in accounting from The University of Northern Colorado and armed with his Certified Financial Planner (CFP) credentials, Jeff's goal was to build an exceptional financial services operation in Arizona. Since its inception in 2000, Jeff has grown MassMutual Arizona to more than 26,000 clients 2 and 50 full-time financial professionals.
Jeff is an active member of the General Agents and Managers Association (GAMA), Financial Planning Association, National Association of Insurance and Financial Advisors, Society of Financial Services Professionals, Young Presidents' Organization (YPO-WPO), and The Sun Devil Club. Additionally, Jeff is a qualifying member of The Million Dollar Round Table (1999, 2000, 2001) and Court of the Table (2001).
It is also his belief that community involvement plays an important role in the growth and development of a successful organization. He has contributed to community organizations that include Homeward Bound, Susan G. Komen, Easter Seals, Autism Speaks, SAARC, Arizona State University's Athletics Department, and more.
Jeff and MassMutual Arizona have been honored numerous times for his visionary leadership and commitment to the community earning such awards as The Phoenix Business Journal Best Places to Work (2011, 2010, 2009), NABCAP Premier Advisor (2011, 2012), and Ranking Arizona: Best of Arizona Business (2011, 2012).
Jeff has been happily married to his wife Anne since 1993, and they have two daughters, Hannah and Lucee. Along with his many accomplishments in the financial services industry and his dedication to his family, Jeff is also a voracious and talented athlete. He enjoys playing golf and baseball as well as competing in various marathons across the country.
Jeffrey C. Dollarhide is a registered representative of and offers securities, investment advisory and financial planning services through MML Investors Services, LLC, Member SIPC. Supervisory Office: 17550 North Perimeter Drive, Suite 450, Scottsdale, AZ 85255; Phone: 480-538-2900.
1FORTUNE and FORTUNE 500 are registered trademarks of Time Inc. and are used under license. FORTUNE and Time Inc. are not affiliated with, and do not endorse products or services of, Licensee. From FORTUNE Magazine, May 21, 2018. ©2018 Time Inc. Used under license.
2 An insured, owner, or payer of a MassMutual policy or contract (as of 12/31/18).
Focus Areas
Insurance Strategies
Investment Strategies (Reg. Reps Only)
Business Owners
Languages
Agency officers are not officers of MassMutual.